If you think that your business will not be a target for ransomware attackers, think again. This is no longer a problem only for large enterprises—now, ransomware attacks target community businesses as well.
The Battle Creek, Michigan community woke up to a May Day attack that forced its Kellogg Community College (KCC) to close all operations. In the middle of preparations for final exams, all five campuses serving approximately 6900 students closed and all operations came to a screaming halt.
The community college posted alerts on its website and social media: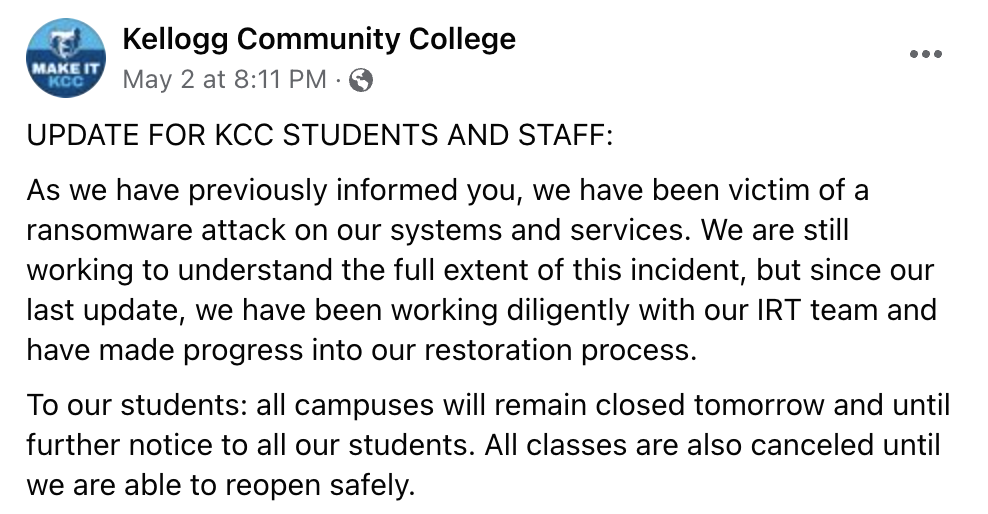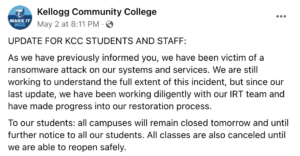 Eric Greene, the Vice President for Strategy, Relations, and Communications at KCC said: "We are still working to understand the full extent of this incident, but as soon as we became aware of it, we immediately assembled a multi-disciplinary team and engaged independent legal counsel and external forensic experts."
Greene continued, "KCC had backups in place, and we are working systematically with our IT experts to restore our operations." But even though KCC had backups, "As a precautionary measure, all campuses have been disconnected and our systems will remain offline until they are deemed secure by our IT experts. As a result, our students and staff might experience delays accessing our services, including campus emails, online classes, and resources," Greene said.
Back-ups alone are not sufficient to prevent business disruption when a ransomware attack hits. Preventing the attack, rather than having to respond to it, is key. KCC remained closed for three days while IT scrambled. All computer access to university systems had to be shut down in an attempt to stop further damage. The response and mitigation included a forced password reset for all students, faculty and staff, and adding multi-factor authentication (MFA) for all users.
Enable Multi-factor Authentication
MFA is an important security measure when people access systems remotely. It provides an extra level of verification to make sure that the user attempting to access the system is really an authorized user and not a bad actor trying to get in. Modern business regularly includes employees logging in from home, travel and mobile devices to access data and systems from their organization. As such, the old firewall security perimeter around your place of business does not protect you. Modern security requires focus on users and access. MFA is something that is easy to add to your security stack. The protection benefit from MFA far outweighs the resource cost of installing and using the technology. Really, there is no excuse for not having MFA in today's threat landscape. It is standard.
So if you do nothing else this year to improve your security posture, add MFA. But considering that community businesses are becoming targets for cybercrimes, unless you can afford a complete shut-down of your business, it is becoming a must to have modern security technologies (including robust monitoring so that you are equipped to prevent attacks and are better positioned to respond and mitigate), in addition to back-up and disaster recovery plans.
Shift Applications to the Cloud
Mid-market businesses are shifting security and data center responsibilities from on premise servers and security maintained by their IT department, to partnering with cloud experts who run data centers, keeping client systems stable and secure as their full time business. The trend with line of business applications used by your team for daily operations is cloud. As more and more community businesses use cloud based apps for functions like accounting, customer portals, ERP, CRM and HR, having cloud experts with the tools and the skills to be able to secure your organization's data (from multiple sources) for safe use by remote users makes more sense than trying to build a security fortress yourself at your place of business.
Partner with Experts
If cybersecurity is not your main line of business, partner with security experts unless you want cybersecurity to become your main line of business. It will consume your resources to stay current with emerging threats, protective means, 24/7/365 monitoring, best practices and constantly evolving security measures. The ever increasing sophistication and volume of attacks has shifted the answer to the "buy it or build it" question for this critical business service from the solution being your in-house IT department to the solution requiring managed security services to supplement your in-house IT team.
Don't become the next ransomware attack headline. Community businesses can take steps to avoid ransomware attacks. An ounce of prevention, after all, is less costly than the cost of operational shut-down, PR scramble, customer service disruption, brand reputation tarnishment, and emergency security consultant fees paid when you are in the middle of an attack that succeeded.