By Katie Horvath, CMO, Aunalytics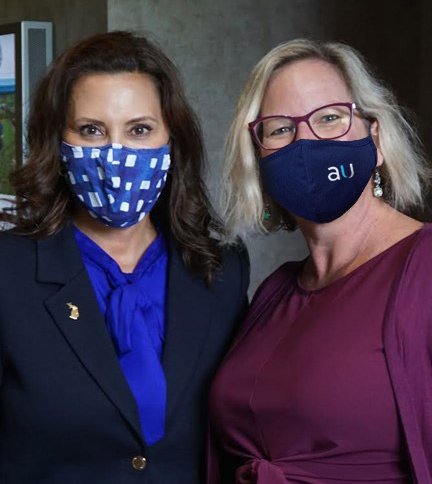 As a woman who has spent the majority of my career in the tech industry, I am acutely aware of the importance of diverse representation. Historically, women have had to persevere through adversity and quickly adapt to change—skills needed to succeed in the tech industry. I have witnessed firsthand the importance of women's contributions to the overall success of a tech organization. So when I received an email from McKinsey in my inbox today, I was happy to see this topic addressed. McKinsey reported that:
[C]ompanies across industries are boosting their efforts to increase the representation of women by focusing primarily on two targets: hiring them into entry-level roles and establishing parity in the C-suite. But our research has found that many organizations are missing the mark at a key moment: equitable advance in early promotion. Across all industries and roles, only 86 women are promoted to manager for every 100 men at the same level. In technical roles—specifically, engineering and product management—just 52 women are promoted to manager for every 100 men. As a result, women are leaving these technical fields in high numbers.
This inspired me to compare my experience with various tech companies across my career, spanning from the late 1990's in Silicon Valley, to Redmond in the mid 2000's, with work locations during my career on the East Coast and in the Midwest. While you might think that things are more conservative in "fly over land" of the Midwest—giving women in tech fewer opportunities than on the coasts—the horror stories of the "bro code" culture in the San Francisco Bay Area have dominated in more recent years and lack of support for women founders to find funding both on the west and east coasts is of high concern.
As CEO of a Midwest big data software company, I did not experience gender discrimination when it came to seeking funding from Midwest investors. We even completed our exit strategy in the middle of a global pandemic—acquisition by strategic investor, and today I am a C-suite executive at that strategic investor, leading high-tech in the Midwest. Out of my many experiences (and trust me, I've experienced the "good old boys club" and more), I truly believe that having women in leadership at the top is a key component of creating inclusive company culture. With women in roles empowered to build and create company culture, and hiring practices that include seeking men and women for front line roles, new hire roles (straight out of school), management, and executive roles, it breeds for inclusion at all ranks. Really, you need to work at all levels for people to see and believe that a workplace is "female friendly." And then it builds upon itself. Women who want to work with other women in tech are attracted to the employer.
Key to this is having visible authentic leadership where team members can see women making personnel decisions, such as promotions into leadership roles for midlevel management. If the perception is that the "good old boys" are making career advancement decisions and company strategy decisions, then women are tokenized. Rather, to be equitably led by both men and women, the team needs to see both men and women empowered with this decision-making.
McKinsey reports that:
[E]ven today women earn about half of science and engineering degrees, but they comprise less than 20 percent of the people working in these fields—and the ones who do pursue this career path can often be the only person of their gender in a room. Without a doubt, retaining women in technical roles is crucial for organizations to reach gender parity not just at the top but also throughout the entire workforce. That cannot happen, however, if companies do not retain and advance women in tech roles—and see them as innovators—early in their careers. The task is not simple. It will require management commitment, as well as a systemic approach that includes equitable access to skill building, a structured process that debiases promotions, and a strong culture of support for women.
As with past years, this year, Aunalytics promoted many from the inside into leadership roles, and I am proud to look around and see women in numbers. Not just tokens, but women in numbers from entry level engineers, product and technical services managers, directors, vice presidents, and our C-suite is 50% woman led. I do not advocate for hiring a women just for the sake of diversity, but rather hiring the best person for the position. The fact that we have established a culture that attracts the best in the business, including the best women, is humbling. It's the goal. You want to attract the best talent and hope that this opens doors for your company to benefit from diverse ideas, experiences, and opinions. This is what makes your products and services stronger. After all, if everyone came to the table with the same idea, creativity would be lacking and R&D stagnant.
At Aunalytics, we are in the business of data, including building AI to provide insights-as-a-service for industry applications, such as customer intelligence for financial services. McKinsey smartly points out that diverse teams can help de-bias the technologies that are ever-present and ever-expanding elements of modern life. Artificial intelligence, for example, has tremendous potential to help humans make fair and impartial choices, but only if the AI systems themselves are not embedded with human and societal biases. For our AI-powered financial services product, both women and men are leading roadmap decisions, driving development team velocity, managing sprints for delivery of new features, developing go to market strategies for new features, and leading our client success teams. Though our goal did not begin with making our AI diverse and inclusive, it is a great impact of the diverse team that we have assembled.
I have long been an advocate for encouraging girls into careers in math and science based upon finding career opportunity and success going down this path myself. We know that higher paid jobs continue to dwell in technology. For women, automation presents not only a myriad of opportunities, but also new challenges. Business is digitally transforming to the next age of technology and it is important for women to keep up. A smart worker looking for career advancement will embrace change and seek out job retraining programs, learning new skills and technologies such as those supporting business intelligence and automation. History has proven the resilience of women to persevere through hardship and adversity, multitask for efficiency, and quickly adapt to change. These exact skills are a recipe for success in business in the digitally transforming world. For women taking intentional steps to learn new technologies to drive business processes, leadership opportunity abounds.