Customers are increasingly demanding digital banking experiences, immediate results and responses to sales and service inquiries, and easy-to-use online platforms. While it is common for banks to invest in building mobile and online banking platforms, industry trailblazers are harnessing the power of data and analytics to drive revenue and smarten operations by gleaning better understanding of their customers for timely targeted cross selling opportunities, lower risk lending, and by cutting operational costs caused by ineffective duplicative customer outreach for sales and service.
So, where to start? The data analytics landscape has exploded over the past decade with an ever-growing list of products and services: literally thousands of tools exist to help business deploy and manage data lakes, ETL and ELT, machine learning, and business intelligence. With so many tools to piece together, how do business leaders find the best one or ones? How do you figure out the best combination of tools and use them to get business outcomes?
The truth is that many tools are built for data scientists, data engineers and other users with technical expertise. With most tools, if you do not have a data science department, your company is at risk of buying technologies that your team does not have the expertise to use and maintain. This turns digital transformation into a failed project without business outcomes instead of sparking data-driven revenue growth.
Yet most mid-sized financial institutions do not have teams of data scientists or data engineers and it does not make business sense to add these FTEs. Really, mid-market banking is stuck between a rock and a hard place in trying to compete with big banks and not get left in the dust of industry giants taking more market share by using data analytics to sweeten customer experiences. So how does the mid-market compete?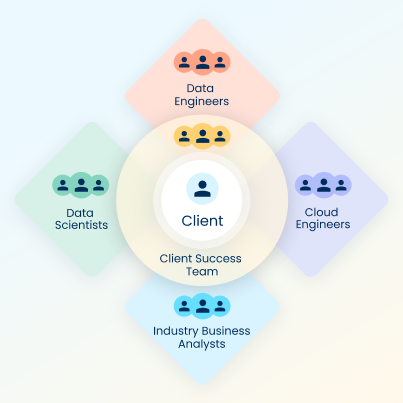 Side-by-Side Solution
A side-by-side client success model provides value that goes beyond most tools and platforms on the market by providing a data platform with built in data management and analytics, as well as access to human intelligence in data engineering, machine learning, and business analytics. While many companies offer tools, and many consulting firms can provide guidance in choosing and implementing the tools, integration of all the tools and expertise in one end-to-end solution built for non-technical business users is key for digital transformation success for mid-market businesses.
To learn how Aunalytics helps mid-market banks and credit unions achieve success in data analytics implementation and beyond through their side-by-side client success model, download the full case study here.