While the main goal of marketing is to gain new customers or increase spend from existing customers, at times, marketing effort can do more harm than good. Unfortunately, a marketing campaign could not only fail to entice customers, but certain pitfalls could actively damage customer relationships. Fortunately, there are ways to avoid them. Below are three major mistakes that marketers are prone to making.
#1 Duplicate Mailers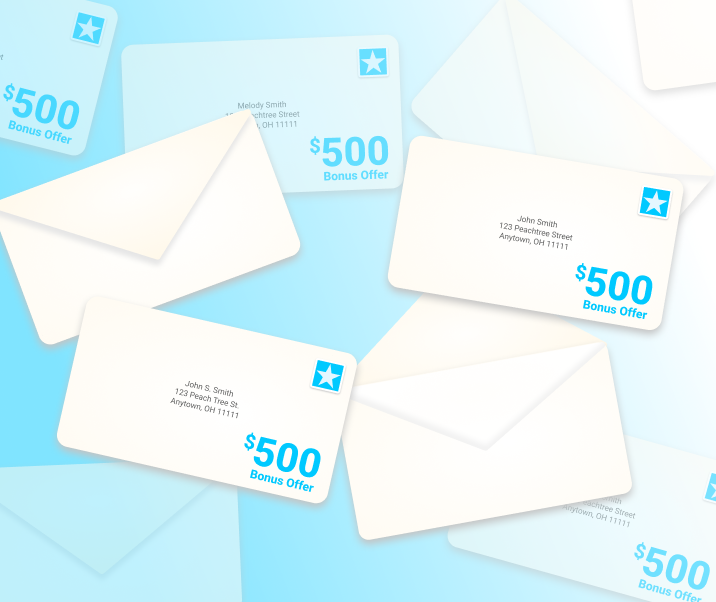 There is nothing more frustrating than opening up the mailbox and receiving multiple duplicate postcard mailers from a single company.  Or when they are addressed to you using two variations or spellings of your name. Or when one is addressed to another member of your household and the second to you. Even worse, when one is addressed to you and another to a generic "household" at your address. Your household typically does not require more than one.
This leaves you to focus on the wasted paper and postage instead of the product or service being marketed. And if the company sending the mailer knew more about the target customer, perhaps the target is someone who does not respond well to snail mail and doesn't like it. Mailed promotional materials go straight into the recycling bin without even entering houses in many households. This type of waste would be avoided by intel on channel preference of prospects.
When you receive duplicate mailings from a company that you do not do business with currently, it can be viewed as a sign that the customer experience would lack attention to detail, personalization and efficiency. This is a turnoff. That company is likely to be put on a mental list of those you do not want to do business with – period.
If a company that you are doing business with sends multiple duplicative mailers to your home, this can be even worse. In this digital world, many businesses ask customer profile questions including preferred contact method. If you opt in for electronic communications and e-bills, sending a mailer shows that the company is either not listening to its customers or the company is not communicating well within its internal teams. You took the time to complete the profile, yet the business can't be bothered with using your input. Did anyone read your form fill results? Again, this shows lack of personalized customer experience, inefficiency and lack of cohesiveness in operations. As a current customer, you feel even more devalued than the business that does not have a relationship with you.
Sometimes the duplicate mailings are sent to your name using slight variations of your address, such as "Street" versus "St." If the business cleaned up its mailing list and recognized that this is the same location, it would save on operational costs and make the company look smarter.
#2 Marketing Products to Customers Who Just Bought Them
A second frustration is receiving a mailer from a company that you currently do business with asking you to purchase products or services that you already have purchased from them. For example, a bank sends a mailer to open a HELOC account or a credit card account when you already have that product from that bank. Is the bank carpet bombing mailings to everyone? How wasteful. Is it that the bank does not care enough about you as a customer to take the time to realize which products you already have with them?
The misdirected marketing may cause customers to begin to think that they should place their business with a bank that cares about their business enough to know which accounts a customer has with them. Really, the relationship would be better if the bank stopped trying to engage its customers than continue to do so with communications that miss the mark.
#3 Bad Timing
A third pet peeve with marketing is when the offers are untimely. For example, if you just refinanced your mortgage with your bank, the bank should not send you a mailer 10 days later for a refinancing opportunity. Yes, customers appreciate notification of interest rates becoming more favorable. But given that you just paid closing costs (or folded them into your loan), refinancing 10 days later is not likely. Instead, you run the risk that the customer sees even better terms being offered and feels dissatisfied with his new product or even mad. From the customer's perspective, if the bank had told him to wait 10 days, he'd have better terms. Marketing can do better on timing.
Marketing should not damage customer relations.
The Digital Data Challenge
Many businesses have a plethora of data that is typically siloed across many systems throughout the organization. Aggregating and integrating this data for marketing purposes is a major challenge that can be difficult and time-consuming, if not nearly impossible.
Hyper-personalized services that factor in intelligence about a customer holistically should form the core of customer relationships. To achieve this goal, businesses can integrate their disparate data architecture across lines of business and functions to create a 360-degree view of customers and allow for targeted marketing based upon data.
New and advanced data analytics powered by artificial intelligence (AI) are available today that enable customer intelligence to drive marketing. Aggregate your data and ensure that it is cleansed to remove duplicate customer lists for mailings. AI-powered analytics recognizes when people with different names are part of the same household to further eliminate duplicate mailings.
Harness the power of your data to personalize a customer's experience with your company and not only avoid these pitfalls, but enable smarter targeted marketing.